Iyabo Ojo Expresses Frustration As Fan Ruins Expensive Appearance At AMVCA 2023
Renowned Nollywood actress Iyabo Ojo, popularly known as Queen Mother, has expressed her disappointment and frustration after a fan replicated her expensive and extravagant look at the recently held AMVCA 2023 event.
News about Nigeria understands that the Africa Magic Viewers Choice Awards (AMVCA) is a prestigious event that attracts numerous celebrities from various industries.
The 9th edition of the awards took place at the Eko Hotel Convention Centre, Eko Hotel and Suites, Victoria Island, Lagos.
Iyabo Ojo's appearance at the event was nothing short of stunning, but unfortunately, a fan took it upon themselves to mimic her look in a humorous manner on social media. This act did not sit well with the veteran actress, who had invested a significant amount of money in her attire.
The actress revealed that she had spent a whopping $50,000, equivalent to approximately N37.5 million in Nigerian currency, on her exquisite outfit. The dress was meticulously designed by renowned celebrity stylist Toyin Lawani, adding to its exclusivity and allure.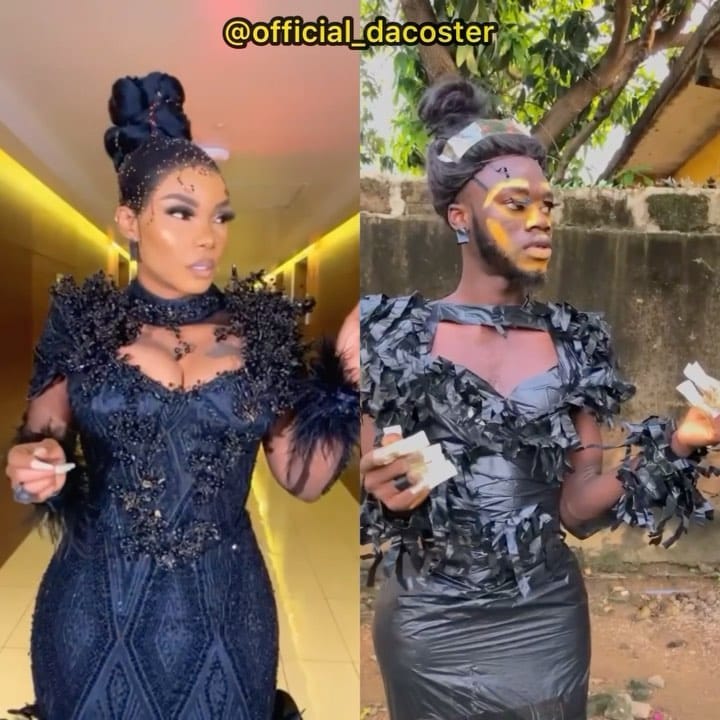 Reacting to the fan's imitation, Iyabo Ojo humorously threatened to take legal action against the individual, jokingly mentioning involving her lawyers and dragging them to court for recreating her appearance in an unflattering manner.
"Please, i need an Idan lawyer, who has Oba lawyers number, i need to sue this guy……… nobody should beg me oooo, we shall meet in court ………. my $50,000 💵 dress, no wayyyyyy," she wrote.
Watch the video below …
While it is common for celebrities to inspire fan recreations, Iyabo Ojo's frustration stems from the fan's portrayal, which undermined the effort and investment she put into her appearance for the AMVCA event.
As an esteemed actress and style icon, Iyabo Ojo's fashion choices often receive attention and admiration from fans and industry peers alike.
Her decision to highlight the cost of her attire sheds light on the significance she places on presenting herself in a remarkable and memorable way during high-profile events.
While the incident may have caused momentary disappointment for Iyabo Ojo, her response reflects her ability to find humor in the situation.
As she continues to captivate audiences with her talent and fashion choices, it is evident that she remains unfazed by attempts to replicate her distinctive style.